DIOR OMOTESANDO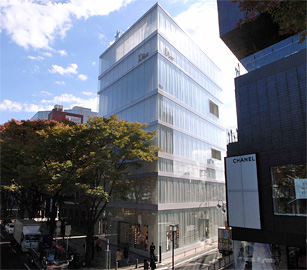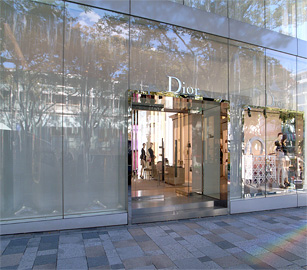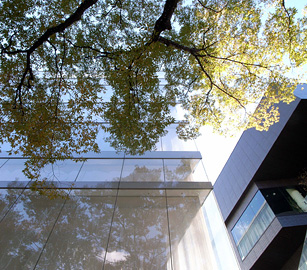 Design: Kazuyo Sejima + Ryue Nishizawa / SANAA, 2004
This architects association is renowned for its bold and daring details, constantly staying at forefront producing cutting-edge design and concepts one after another.
GYRE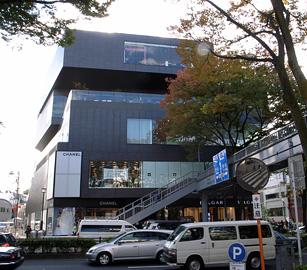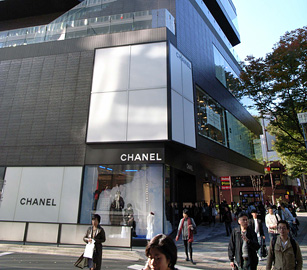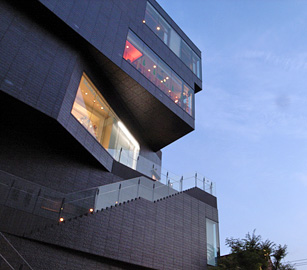 Design: MVRDV + Takenaka Komuten, 2007
The design conceived of stacking boxes, then shifting and rotating them, is perhaps a bit over-contrived.
PEDESTERIAN OVER-BRIDGE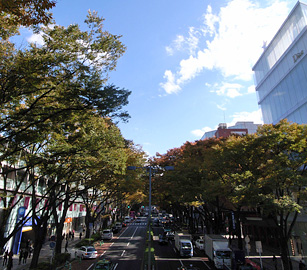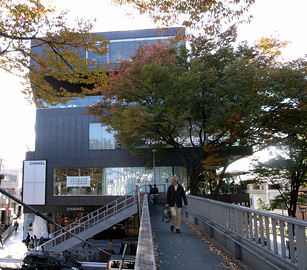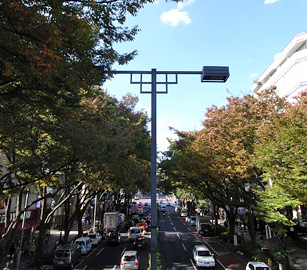 There are 2 over-bridges allowing pedestrians to cross Omotesando Avenue: one here and another one up near Jingu-bashi. Although the typical pedestrian over-bridge, this one being no exception, have much to be desired in terms of colour, shape and functionality, this over-bridge allows spectacular longitudinal views down Omotesando.
URA-HARA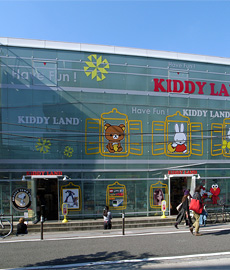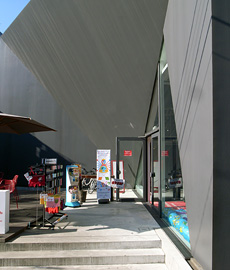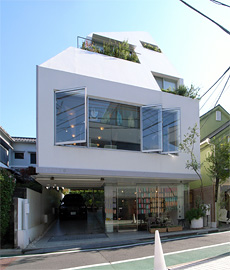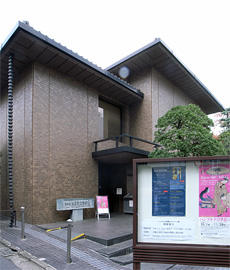 Called"URA-HARA,"(back-streets of Harajuku) an interesting town developed along the covered Shibuya-river. Interesting architecture, such as an import furniture shop designed by SANAA and STEALTH by Tadao Ando may be found in this area.
The curious and attention-drawing things that can be found with buildings around Omotesando are never-ending, even in the back alleys of the area. Incidentally,"OHTA MEMORIAL UKIYOE MUSEUM"is a must to be visited.
"FONTAINE STREET" - "BRAHMS ALLEY"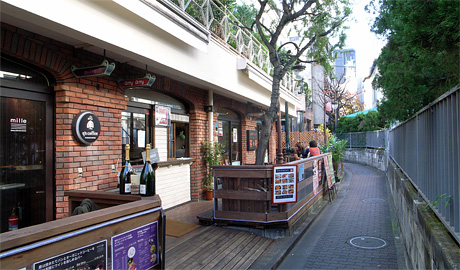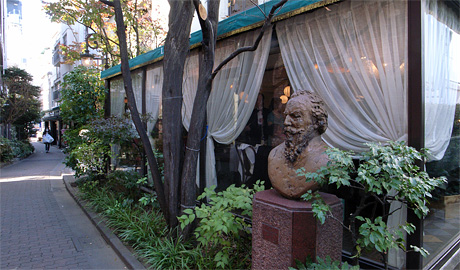 This area grew along a covered stream that flowed originally from the pond on the grounds of Meiji Shrine into the Shibuya River.
External spaces found here are may be labeled as imitation of the European townscapes.
MEIJI SHRINE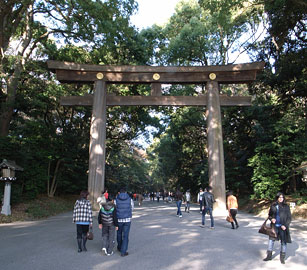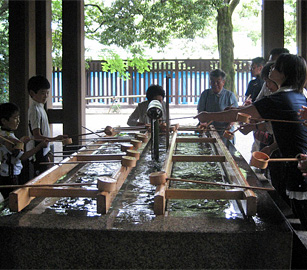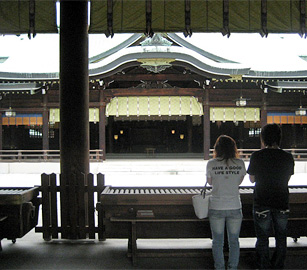 Built 1920 This totally man-made forest was begun 95 years ago, after careful long-term ecological forecasting and interesting laissez-faire forestry management. After the initial land preparation, donation of trees from all over the nation were completed in 5 years, the dominant trees would have been replanted in 4 phases and the forest was expected to reach stability in its final sustainable condition after 150 years. However, the oak, pasania and camphor, which make up the dominant trees, have grown somewhat faster than expected. It is commendable that such a long-term project and commitment spanning over a few generations was initiated in Japan.
NATIONAL INDOOR STADIUMS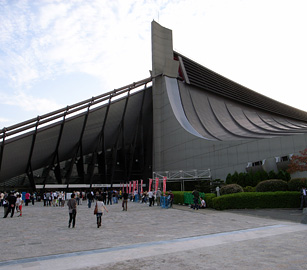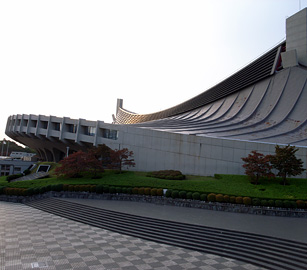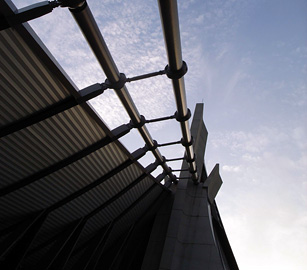 Design: Kenzo Tange + URTEC, 1964
Even today these stadiums represent iconic architecture that Japan can be proud of; but compared to 30 years ago their character have become docile after the extensive refinishing work. The original exposed concrete finish imparted a sense of agility as well as strength to the buildings, which were far more captivating than how they appear now. One should hope that something could be done in order to restore their original dignity and splendour.
RISE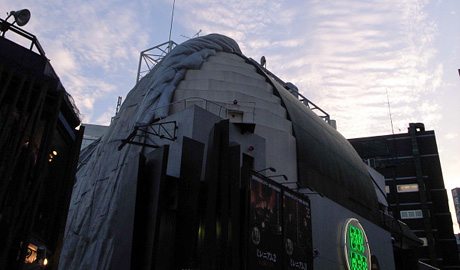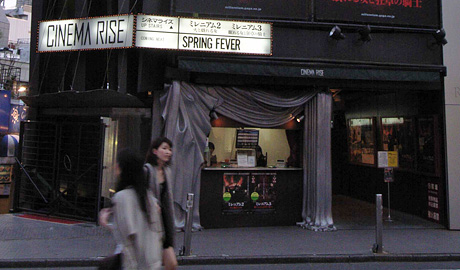 Design: Atsushi Kitagawara + ILCD, 1986
The unique external design seems to be apt in the congested locale of the project.
TOKYU HANDS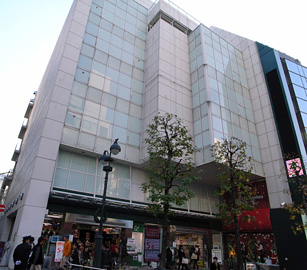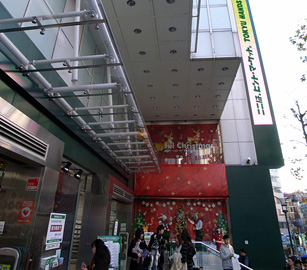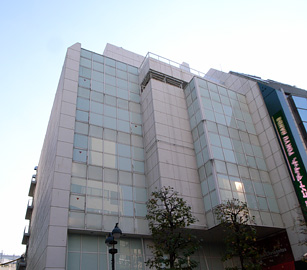 For those wanting to do some handicraft, shopping at "TOKYU HANDS" is quite essential. The Shibuya store standing on Organ-zaka is archetypical, the building composed of floors rising by 1/3 floor-level increments, with merchandise organized accordingly; thus ingeniously facilitating the circulation around the various floors for the shoppers.
SPAIN-ZAKA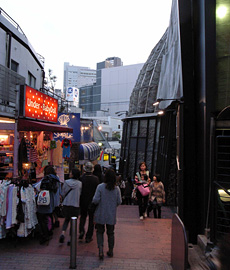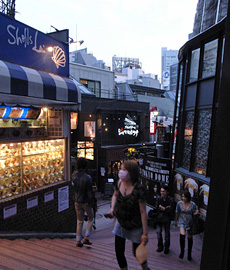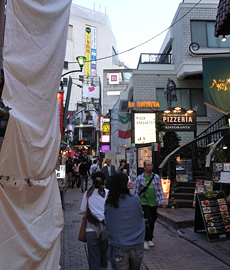 The stretch of road between No. 13~16 Udagawacho, comprises a gentle slope ending with steps at its north end. This area is well frequented by young people and is one of the gathering points offering entertainment, shopping and whatnot.